MACCLESFIELD SCAFFOLDING
MCB Scaffolding is one of the leading Scaffolding contractors in Macclesfield and provide services throughout Cheshire. Our fully qualified friendly team is experienced in every aspect of scaffolding.
We undertake contracts of all sizes and provide professional scaffolding services to all customers across the commercial, domestic and sectors.
We aim to provide the very best service available and we do that by offering a high quality, safe and affordable service that is delivered by a fully trained, reliable and friendly team. We would like to invite you to complete the 'request a quote' form for a free no-obligation quote and hopefully you'll soon be leaving us a 5 star review on our Facebook page.
Alternatively please call us on 07799 453640
We would like to quote for any works you require in Macclesfield and Cheshire area so please do not hesitate to call us.
Domestic Scaffolding
We know that it can sometimes seem impossible to source a reliable scaffolding supplier for your domestic build – but this does not need to be the case. With many years' experience handling residential and domestic builds of all sizes from an initial survey to final a  breakdown and clearance, we are there to fully support your work from start to finish.
Our business provides a range of scaffolding for a range of projects, varying from small-scale renovation work to more demanding refits or build work at highly competitive rates. With extensive experience working with the public, we know that taking a bespoke approach to requests of all sizes is not only helpful but necessary.
Our team are safety focused and detail oriented, working to help ensure that your project is completed within your given schedule on time, within budget and in the most efficient way possible. We are also more than happy to provide guidance on your suggested build and help you make an informed choice about the specific equipment that you need – ensuring that your project meets your scheduled completion date.
All our employees are fully qualified and trained to deliver a safe, reliable service that provides exactly what your build needs – working alongside you from start to finish to ensure that we add value to every step of the process.
Because we know that while your price point is vitally important, health and safety are paramount.
If you want to receive a detailed free quote for your future project, you can get in touch with us directly and detail exactly what you need. Or if you have any further questions about our range of services, equipment, or approach – please do not hesitate to contact a member of our friendly team and tell us what your domestic or residential build needs.
Commercial Scaffolding Services
Every professional operating in the construction industry knows that finding a solution for their commercial scaffolding needs is difficult. But for those operating the Macclesfield area and beyond MCB Scaffolding has you and your site team fully covered.
We supply a wide selection of scaffolds that fit all job types, from straightforward short builds to demanding long-term ongoing projects. And we understand there is no such thing as 'one size fits all' when it comes to ensuring that your employees or contractors are safe, secure, and able to operate to the highest degree of efficiency.
When it comes to fitting out a site, we are detail-oriented and budget conscious, regardless of the project; no matter if the work undertaken involves demolition, construction, refitting, or an unusual scale of build.
We refuse to compromise when it comes to quality and safety, and will always work to minimise disruption from our site survey and scaffold erection to ongoing monitoring and final breakdown.
Getting in touch with us means that you will have access to a highly trained, flexible team that has extensive experience of delivery on a wide range of timeframes – but one that always places safety first.
Working with MCB Scaffolding means delivering a service that is reliable, affordable, and – above all – safe.
To secure a comprehensive free quote, you can contact our team directly here. Or, if you have any queries about our range of products or our approach to delivery, please do not hesitate to get in touch with us directly on 07799 453640and let us know exactly what your commercial build needs.
New Build Scaffolding Services
If you are looking for new build scaffolding services in Macclesfield and surrounding areas, you've come to the right place.
Situated in the heart of Cheshire, just 20 miles south of Manchester, Macclesfield has become extremely popular with new build buyers who want to live in a bright and modern home which is still within commuting distance of some of the busiest cities in the North of England. Aside from its proximity to Manchester, Liverpool is less than 50 miles away by car, while Stoke-on-Trent is just 24 miles to the south. These three cities are known for their large student and post-graduate populations, while the Northern Powerhouse initiative has ensured that there are plenty of jobs and graduate opportunities for young professionals in the area.
This means that demand for new builds has gone up, and with it, so has the demand for new build scaffolding. However, many Cheshire-based homeowners and developers still struggle to find a good scaffolding service for new buildings.
We believe that good scaffolding services should solve construction problems without adding to them. That is why we only hire the best staff, and we put site safety and durability first. New build scaffolding should be able to withstand the harshest weather, while protecting the veneer of the building itself, and make access easier and faster for construction crew and surveyors. By providing an efficient and fuss-free service, we hope to be able to make this entire process as easy and stress-free as possible.
Our scaffolding experts are friendly, reliable and fully qualified. We pride ourselves in being able to offer a safe and professional service, regardless of your budget or the scale of your project.
Get in touch now for a free quote, and find out how we can fulfil your scaffolding needs for new build homes in Macclesfield and beyond.
Temporary Roof Scaffolding Services
Temporary roof scaffolding can be difficult to source at short notice, particularly when the weather is bad. However, come rain, hail or snow, we provide a world-class scaffolding service which can protect any building in Macclesfield – from new builds to period homes.
Whether you are creating a new roof from scratch, carrying out restoration work on a historic roof, installing solar panels, repairing weather damage, or replacing a series of leaky roof tiles, you will need to choose a local roof scaffolding provider.
Since we are based in Macclesfield, we can serve the entire surrounding area, from Warrington to Stoke, without compromising on quality and efficiency.
Temporary roof scaffolding should be quick and easy to install, as well as being strong, safe and reliable. Our fully-qualified scaffolding experts are familiar with the various challenges of the construction sector – challenges which can be particularly tough when it comes to roofing and roof repairs.
Roof scaffolding differs from regular scaffolding as it usually needs to offer a degree of shelter and weather resistance, as well as being sturdy enough to withstand constant use. The installation and maintenance of this sort of scaffolding can only be carried out by experts, and luckily we have a whole team of them!
We pride ourselves on offering a friendly and efficient service, with qualified engineers and builders who can work quickly while ensuring that the roof scaffolding meets the most stringent safety requirements. Furthermore, by using our roof scaffolding service, you can have the peace of mind that comes with hiring a professional and experienced team.
So, if you are looking for temporary roof scaffolding in Macclesfield and the surrounding areas, we would love to hear from you! Contact us today to get a free quote and find out how we can work with you on construction projects large and small.
Contact Details
M: 07799 453640
E: mark@mcbscaffolding.co.uk
A: 50 Dawson Road, Macclesfield, SK11 8ND
FULLY QUALIFIED SCAFFOLDING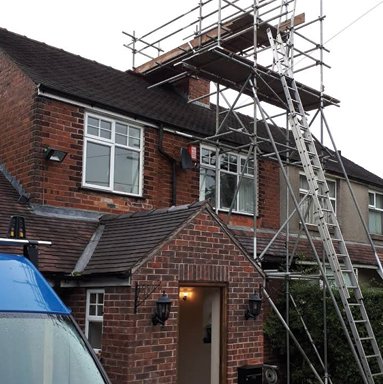 Domestic Scaffolding
Our business provides a range of scaffolding for a range of projects, varying from small-scale renovation…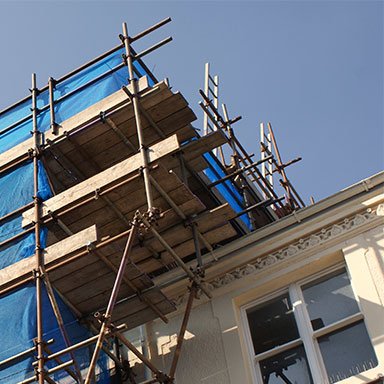 Commercial Scaffolding
Every professional operating in the construction industry knows that finding a solution for their commercial scaffolding…
Temporary Roof Scaffolding
Temporary roof scaffolding should be quick and easy to install, as well as being strong, safe and reliable.
New Build Scaffolding
New build scaffolding should be able to withstand the harshest weather, while protecting the veneer of…